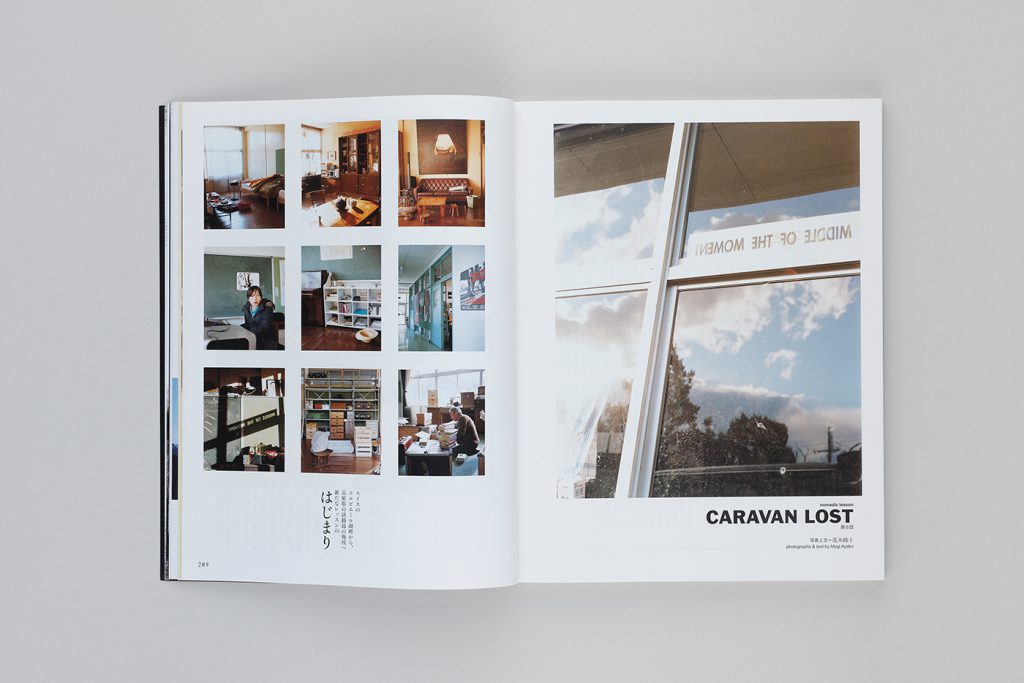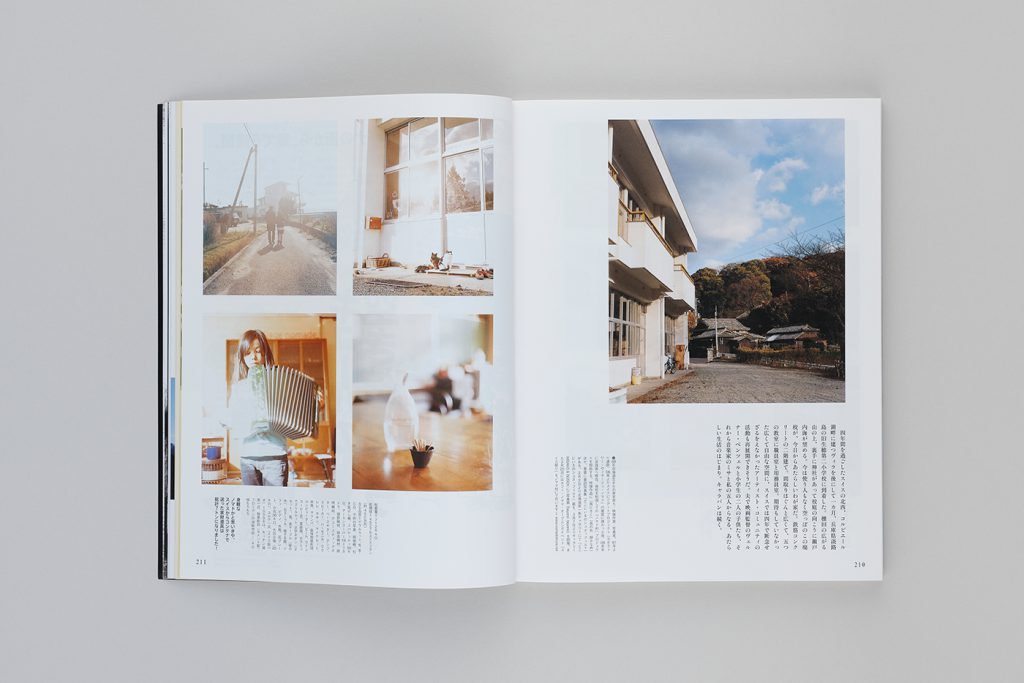 Magazine 'Coyote' No.41
March 2010
→
Coyote
写真と文=茂木綾子
4年間を過ごしたスイスの北西、コルビエール湖畔に建つヴィラを後にして1カ月、兵庫県淡路市の旧生穂第二小学校に到着した。棚田の広がる山の上、裏手に神社があって校庭の向こうに瀬戸内海が望める。今は使う人もなく空っぽのこの廃校が、今日からあたらしいわが家だ。鉄筋コンクリートの二階建て。間取りはぐんと広くて、5つの教室に職員室と用務員室。期待していなかった広くて自由な空間に、スイスでは4年で断念せざるをえなかったアーティスト・コミュニティの活動も再展開できそうだ。夫で映画監督のヴェルナー・ペンツェルと小学生の2人の子どもたち、それから音楽家のミサと私の5人からなる、あたらしい生活のはじまり。キャラバンは続く。
●

身軽なノマドかと思いきやスイスからコンテナで送った家財道具の総重量は7トンになりました

総重量=7128キロ
総価値=46,276スイスフラン(約450万円)
主な品目=ドラムセット、布、本・CD、子どもの写真、現像機、引き延ばし機、スパゲッティ30キロ、アートンスーパー16ミリカメラ、撮影機材、録音機材、照明機材、アコースティックギター、ベースギター、アンプ、スピーカー、ハーモニカ、ウクレレ、カホン、マイクセット、木魚、マリンバ、座禅用座布団、コンピュータ、ビール、ワイン、コーヒー豆、食器類、セラミックグリルセット、文字ネオン(2セット)、畳、長テーブル(桜の木)、石テーブル、椅子8脚、ソファ、ピアノ、木馬、石プレート、小石30キロ、大石2個(20キロ)、ユルテ一式(スイス製パオ)1,000キロ、キッチン道具一式、骸骨彫刻(セメント製)、フロリアンの油絵作品……その他もろもろ。
—
photographs & text by Ayako Mogi
One month after leaving the villa on the shore of Lake Corbiere in the northwest of Switzerland, where I spent four years, I arrived at the former Ikuho Daini Elementary School in Awaji City, Hyogo Prefecture. It is located on top of a mountain with terraced rice fields, a shrine behind it, and a view of the Seto Inland Sea beyond the schoolyard. This abandoned school, now empty and with no one using it, is my new home. It is a two-story reinforced concrete building. The layout is much larger, with five classrooms, a staff room, and a janitor's office. It is a spacious and free space, which I had not expected, and it will allow me to redevelop my artist community activities, which I had to give up after four years in Switzerland. It was the beginning of a new life for the five of us: my husband, film director Werner Penzel, our two elementary school-aged children, musician Misa, and me. The caravan continues.
●
I thought I was a light nomad, but the total weight of household goods sent by container from Switzerland came to 7 tons!

Total weight = 7128 kg
Total value = 46,276 Swiss francs (about 4.5 million yen)
Main items = drum set, cloth, books and CDs, children's photos, developer, enlarger, 30 kg of spaghetti, arton super 16 mm camera, photographic equipment, recording equipment, lighting equipment, acoustic guitar, bass guitar, amplifier, speakers, harmonica, ukulele, cajon, microphone set,. wooden fish, marimba, zazen cushions, computer, beer, wine, coffee beans, tableware, ceramic grill set, neon letters (2 sets), tatami mats, long table (cherry wood), stone table, 8 chairs, sofa, piano, wooden horse, stone plates, 30 kg of pebbles, 2 large stones 30 kilos of small stones, 2 large stones (20 kilos), 1,000 kilos of a complete set of yurts (Swiss pao), a set of kitchen utensils, a skeleton sculpture (made of cement), an oil painting by Florian: ……, and much more.