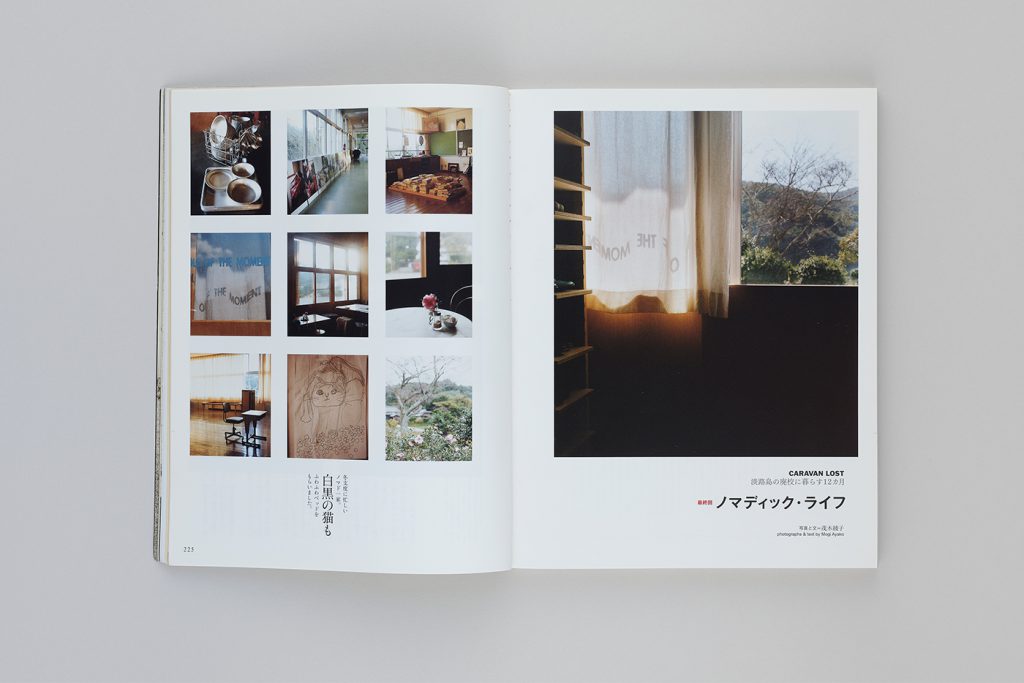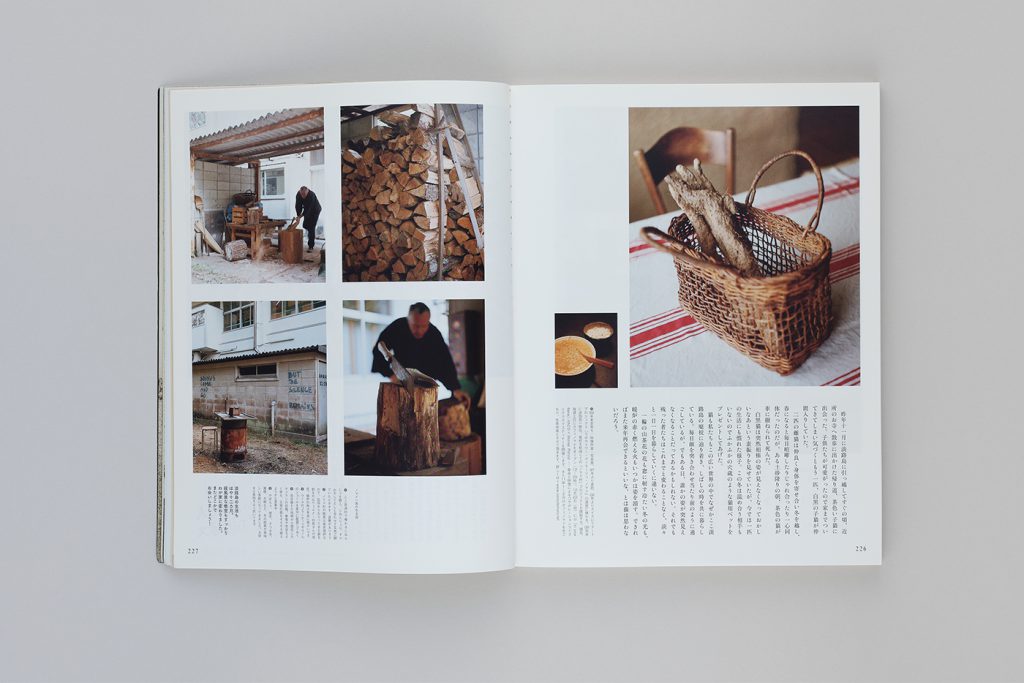 Magazine 'Coyote' No.46
January 2011
→
Coyote
写真と文=茂木綾子
昨年11月に淡路島に引っ越してすぐの頃、近所のお寺へ散歩に出かけた帰り道、茶色い子猫に出会った。子どもたちが可愛がったので家までついてきてしまい気づくともう1匹、白黒の子猫が仲間入りしていた。
2匹の雌猫は仲良く身体を寄せ合い冬を越し、春になると毎日喧嘩したりじゃれ合ったり一心同体だったのだが、ある土砂降りの朝、茶色の猫が車にはねられて死んだ。
白黒猫は突然相棒の姿が見えなくなっておかしいなあという素ぶりを見せていたが、今では1匹の生活にも慣れた様子。この冬は温め合う相手もいないのでふかふかの穴蔵のような猫用ベッドをプレゼントしてあげた。
猫も私たちもこの広い世界の中でなぜかここ淡路島の廃校にたどり着き、しばしの時をともに暮らしている。毎日顔を突き合わせ当たり前のように過ごしているが、でもある日、誰かの姿が突然見えなくなることだってあるかもしれない。それでも残った者たちはこれまで変わることなく、淡々と1日1日を暮らしていくに違いない。
一輪の山茶花の花も窓に射す冷たい冬の光も、暖炉の赤く燃える火もいつかは姿を消す。できればまた来年再会できるといいな、とは猫は思わないだろう。
●

ノマド一家の冬支度
❶ ここ長澤村で穫れるじねんじょを購入。じねんじょは、すりおろしてだしと合わせて玄米ご飯でいただきます。滋養がありそう。
❷ ノマド村の暖房は基本暖炉なので、近所からもらってきた薪を割るのはヴェルナー村長さんの役目。暖炉の熱は本当に暖かいです。
❸ ウールのブランケットやウールのショールを家中に配置しておく。
❹ 先日植えた球根から開花したサフランの収穫。春菊や空豆もよく育ち、玉葱の苗もそろそろ植えようかと思案中。
❺ かぼちゃ、里芋、さつま芋、蓮根、大根など、冬の根菜が美味しい季節になってきました。大好きな煮物をよく炊いています。
—
photographs & text by Ayako Mogi
Shortly after moving to Awaji Island last November, I met a brown kitten on my way home from a walk to a nearby temple. The children loved her so much that they followed her home, and before they knew it, another black and white kitten had joined them.
The two cats huddled together for the winter, and in the spring they fought and jostled each other every day until one morning when it was pouring down, the brown cat was hit by a car and killed.
The black-and-white cat showed signs of wondering why his partner was suddenly out of sight, but now he seems to have gotten used to living alone. This winter, with no one to keep each other warm, I gave him a soft cat bed that looks like a hole in the ground.
Somehow in this wide world, the cats and I have ended up here in an abandoned school on Awaji Island, where we have been living together for some time now. We see each other every day and spend our time together as if it were a matter of course, but one day, someone may suddenly disappear from our sight. But one day, someone may suddenly disappear from our sight. Still, those of us who are left will continue to live our lives one day at a time without any change.
The single blossom of a mountain tea plant, the cold winter light shining through the window, and the red-burning fire in the fireplace will all disappear someday. The cat won't think that it would be nice to see them again next year, if possible.
●

Preparing for winter in a nomadic family
❶ I bought some jenjo, which is harvested here in Nagasawa village. We grate it, combine it with soup stock, and serve it with brown rice. It looks nourishing.


❷

Nomad Village is basically heated by a fireplace, so Mayor Werner is in charge of chopping wood from the neighborhood. The heat from the fireplace is really warm.
❸ Wool blankets and wool shawls are placed throughout the house.
❹ Harvesting saffron that bloomed from the bulbs we planted the other day. Garland chrysanthemums and fava beans are also growing well, and I'm thinking about planting onion seedlings soon.
❺ It's getting to be the season when winter root vegetables such as pumpkin, taro, sweet potato, lotus root, and radish are delicious. I often cook my favorite simmered vegetables.